With the expansion of both mobile casino gaming and 4G Internet technology, we often hear players asking whether then can play casino games using a 4G connection. The answer is yes, mobile casinos can be accessed on any smartphone or tablet that has Internet connectivity, be that Wi-Fi, 3G or 4G.
4G Internet is a relatively new revelation of the telecommunications industry so some older smartphone models don't come with the capability of a 4G connection, but for those players who do have 4G access, it can provide you with ultra fast speed to play your favourite real money casino games on the go.
4G connections explained for newbies
4G is more than just some fancy tech number used to market mobile devices, it is a form of mobile connectivity that allows smartphone and tablet users to gain wireless internet access with super high speeds. 4G means the fourth generation mobile wireless network and is the most advanced level of mobile telecommunication currently on the market, superseding 3G connectivity and paving the way for 5G.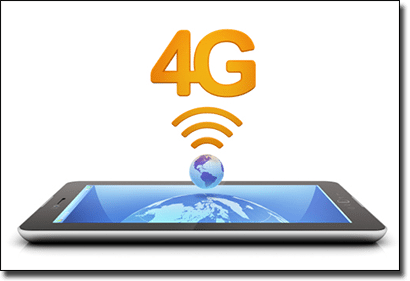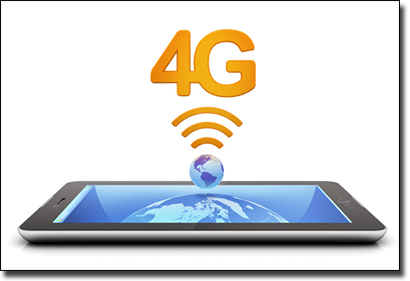 4G utilises a form of technology known as Long Term Evolution (LTE) which is a wireless communication system allowing high speed data for mobile phones and data devices.
For a mobile operator to legally be able to sell their product as 4G, they must follow a strict set of guidelines as set out by the International Telecommunication Union- Radio Communications Sector (ITU-R) which specify that the 4G connection must:
Be compatible of services within IMT (International Mobile Telecommunications Advanced) and with fixed networks
Be capable of interworking with other radio access systems
Offer high quality mobile services
Have worldwide roaming capability
Offer enhanced peak data rates to support advanced services and applications
If this still sounds like too much tech mumbo-jumbo to you, to put it simply, 4G is a form of mobile connectivity that allow you to gain fast, efficient Internet access and solid phone reception on your mobile device even when you aren't within reach of a Wi-Fi network.
When logged into a secure 4G connection, it's the fastest way to send and receive text and data and access the Internet from your smartphone or tablet, making 4G a great option for playing at mobile casinos.
What's the difference between 3G, 4G and Wi-Fi?
While the aim of 3G, 4G and Wi-Fi connectivity is the same – to provide you with Internet access on your mobile device – there are some differences between how the three systems work.
3G and 4G are different generations of the same form of wireless technology, but the difference is that 4G is much more advanced, offering users higher quality, faster speeds and quicker downloads. 4G connectivity is up to 10 times faster than 3G, with super fast speeds between 20Mbps and 30Mpbs if you are connected within a metropolitan CBD area.
Wi-Fi connectivity operates separately from 3G or 4G. It's an Internet connection standard provided by a wireless network in which a mobile device can connect into a physical line (modem) that can be shared by several users at once.
Wi-Fi connections can be found within homes, offices, cafes, stores, hotels and restaurants and will require that you locate the unique wireless network on your device and typically enter a password to join the network. Wi-Fi means you must be within close proximity to the physical line whereas 3G or 4G networks can be accessed anywhere that service providers offer the connection.
The benefit of using 4G connectivity for mobile gambling
The benefits of 4G all come down to speed and quality, two elements which are vital for effective online gaming. While a 3G connection is completely adequate for web browsing, emailing and accessing social media sites (in fact, you probably wouldn't even notice the difference between 3G and 4G for those purposes), a solid 4G connection can be the difference between a good and bad mobile casino experience.
Mobile casinos operating over a 4G network means games can be lightning fast with crystal clear graphics. Mobile live dealer gaming which requires fast uploads and more data will definitely benefit from a 4G connection, with many 3G connections not allowing the same high level of game play.
Popular phone models with 4G
Some of the most popular mobile phone models of the past year that come with 4G capabilities include:
Apple iPhone 5S, 6 and 6 Plus
Samsung Galaxy S5 and S6
LG G3 and G4
Motorola Moto X
Sony Xperia Z1 and Z3
HTC One M8 and SV
BlackBerry Q5, Q10 and Z10
Nokia Lumia 630, 635, 638, 830 and 930
Microsoft Lumia 640
4G service providers by country
The advanced 4G connection has not yet been implemented by all mobile service providers and is generally only offered by the most dominant telecommunications companies in each country as follows:
Australia
Telstra
Virgin
Optus
Vodafone
USA
Verizon Wireless
Sprint
T-Mobile
AT&T
Canada
Telus
Bell Canada
Rogers Wireless
United Kingdom
Europe
Vodafone
T-Mobile
Orange
Belgacom
A1 Telekom Austria
E-Plus
O2
Three
Tango
Telefónica
Swisscom
Asia
China Mobile
Bharti Airtel
Three
Indosat
Globe
Smart Communications
Warid Telecom
TrueMove-H
Taiwan Mobile
Sri Lanka Telecom