When you buy an Apple iPhone, iPad, or iPod Touch, your default browser is Safari, and no matter how long you hold down on the app to delete it, it's not going anywhere.
Perhaps this is a good thing as Safari, first released for OS X and then iOS, is considered to be one of the best mobile browsers, especially since according to StatCounter (a global tracking device) over half of smartphone and tablet browser usage in the US is with Safari.
Desktop users don't tend to opt for Safari, with Chrome being the preferable browser, but it seems when it comes to mobile real money gaming on the go, Safari is the best.
Mobile Safari casinos
Many online casinos have optimised their site to be compatible with modern phones and tablets. This has allowed players who only use these devices, or those who want to continue gaming on the go to access the casino sites via their portable device.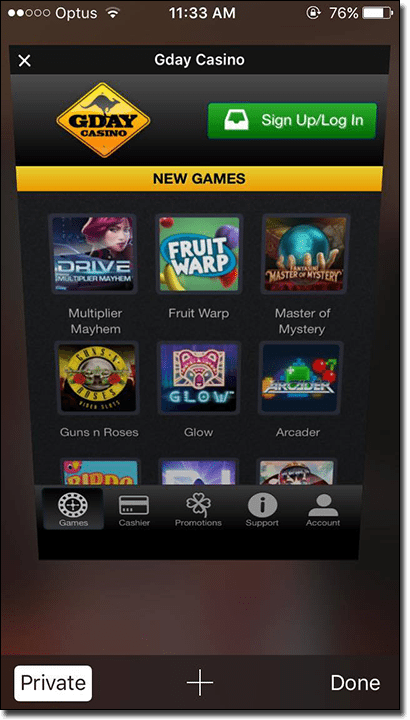 While applications would've been ideal, legislation has prevented app stores from offering them to players and therefore prevented online casino operators from creating them. Some, such as Royal Vegas Casino, got around the legislation and now offer a native app, but the majority offer a mobile site.
This means if you have a modern compatible device, those of which are detailed below, you can tap the links provided here to secure mobile casinos and your default mobile browser will take you directly there, without having to tap out the URL. For Apple devices this is Safari.
What's more accessing the casinos via your mobile browser means you don't have to download anything and take up any storage on your Apple smartphone, tablet or iPod Touch.
Safari casino features
Safari is an ideal mobile browser when accessing mobile casinos due to the layout, performance and security features.
Layout:
The minimalistic mobile layout is perfect for those playing on smaller screens. When you tap to our recommended mobile casinos via Safari, two toolbars will be present – the URL tool bar with only a refresh icon, and a menu toolbar in case you want to make a web app (add the site to your home screen to run via your browser, almost like a bookmark).
When you swipe the screen, down or sideways, to view to mobile titles the menu panel will disappear to fit more games on the screen. What's more when you pick a game to play you can swipe up to remove the top toolbar for more screen space.
You also have the option to open multiple mobile casinos at once by clicking the two squares on the bottom menu panel (new tab icon). Here, you can view multiple sites as you would when you use new tabs on your desktop.
Performance:
Interestingly, it has been proven web apps are two times slower than just accessing the site via mobile Safari, so if you aren't a very patient person we recommend simply using the mobile Safari browser to play the games at our secure mobile casinos.
There are also additional features to improve performance, such as opening any tabs you've closed by accident – quite handy since we've all done it (thanks to fat finger syndrome). Tap the new tabs button, hold down the + to bring up recently closed tabs, and tap which tab you wish to restore.
So if you've accidentally exited a mobile casino game you can easily restore it.
Security:
The mobile browser, Safari, is considered to be such a good smartphone and tablet browser due to the high levels of security employed – making it a great option for deposits and tapping in sensitive data to play the mobile casino games with real money.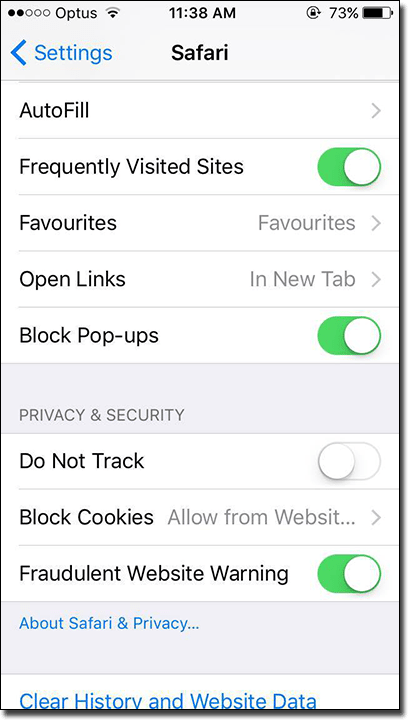 First up is the iCloud Keychain which generates, stores, fills, and syncs all passwords and credit/debit card details on all Apple devices (iPhone, iPad, iPod, and desktop devices).
Additionally, to protect this information you can turn on Anti-Phishing. Simply tap on Settings from your home screen, and then on Safari to turn on 'Fraudulent Website Warning'. This will alert you to anyone trying to steal your information or any potential threats.
What's more, if you update your phone or tablet to the latest iOS 9, you will have access to the 'Content Blockers' feature where users can block trackers, advertisements, and other content to increase security when playing mobile games via Safari. Turn this on via your Settings too.
You can also access the mobile casinos via Private Browsing mode, which will void any passwords, details or anything being saved and your history being recorded. Tap the new tabs icon and then on the 'Private' button to activate it.
Compatible devices and Safari mobile casinos
Compatible devices with mobile Safari casinos include all the latest Apple devices, as follows;
iPhones (recommended to have at least an iPhone 4)
iPads (all generations)
iPod Touch (all generations)
The best sites to play your favourite mobile casino games via Safari include;
www.GdayCasino.com – Safari allows you to view the huge array of mobile games available at G'day, provided by NetEnt, BetSoft, Microgaming and more

www.LeoVegas.com – Leo Vegas is considered to be the best mobile casino thanks to its large number of mobile titles from top software providers, as well as a live dealer casino which runs smoothly via Safari
www.Guts.com – Guts offers huge variety of slots, table games and more from our favourite software developers and each have been optimised to work with the Safari mobile browser
www.RoyalVegasCasino.com – Royal Vegas Casino does have a native app available to download but you can also access their mobile site by tapping the links too and playing the Microgaming exclusive mobile catalogue via the Safari browser
www.Rizk.com – Rizk is the latest addition to our recommended online casinos and offers a unique and fresh take on online gaming. The mobile site offers an array of NetEnt, Microgaming and BetSoft games all available to play using Safari