Blackjack Party by Evolution Gaming is meant to offer a more social variant of of their impressive and innovative live dealer range – and while we see what they were trying to do, we aren't sure if just adding an extra dealer achieves it.
Evolution Gaming was established in 2006 and have an impressive line of live dealer titles. Included is Blackjack Party, a live dealer blackjack variant that is meant to create a party atmosphere by hosting two live dealers streamed in HD (high-definition) to the player's screen.
By including an extra dealer to their standard one dealer, who chat to both the players and each other, it does create a more social environment. Sometimes, however, it can be a bit awkward. Additionally, it doesn't necessarily feel like a party, and for some the chatter may be a bit distracting during gameplay.
Regardless, many still line up for this game and we can see why as it is fun with additional side bets that have big payouts.
How to play Live Blackjack Party
Blackjack Party features the standard rules of American blackjack and offers low stakes with two attractive hosts -one male and one female. One acts as the dealer while the other acts as the co-host, chatting with the dealer to create a social atmosphere.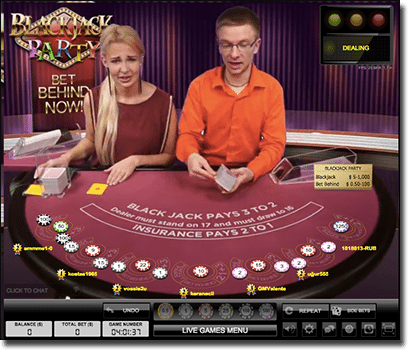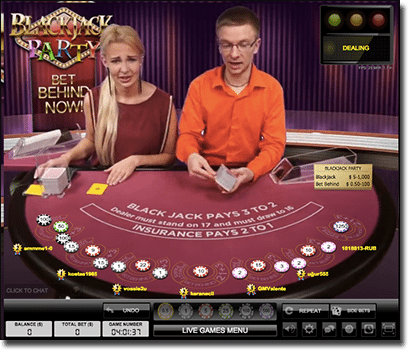 There is also a chat feature so you can chat to the hosts, and they welcome you and chat back, which adds to the social ambience, but any rude or disrespectful comments aren't tolerated and players who act in this manner will be removed.
There are only seven seats at the table, so you will most likely be waiting for a seat at some point, though you can place special bets, which we will detail below, while you are waiting.
Once you are seated at the table you will be asked to place your bets, and the dealer will then reveal the results and you will be asked to take your turn until the hand is over, where any winnings will be paid.
Minimum Bet: $5
Maximum Bet: $1000
Bet Behind Minimum Bet: $0.50
Bet Behind Maximum Bet: 100
21 + 3 Minimum Bet: $1
21 + 3 Maximum Bet: $250
Perfect Pairs Minimum Bet: $1
Perfect Pairs Maximum Bet $500
Blackjack pays 3:2
Best Hand pays 1:1
Insurance pays: 1:1
You can only play Blackjack Party in real money mode so you will need to sign up and make a deposit to try the game.
Blackjack Party rules
The rules of American 21 are followed in Blackjack Party including;
Eight decks of 52 cards are used
Dealer has to stand on soft 17
Double Down is allowed for the first two cards
Hands can be split, but only once
There are also three additional side bets available in Blackjack Party.
Bet Behind: This side bet allows you to bet on a player's hand who is seated at the table. This means you don't have to sit and do nothing while you wait for a seat and you can win quite a substantial amount.
21 + 3: An additional bet to your hand where you can wager on your first two cards and the dealers up card. Payouts include Suited Trips paying 100:1, Straight Flush paying 40:1, Three of a Kind paying 30:1, Straight paying 10:1, and Flush paying 5:1.
Perfect Pairs: Perfect Pairs is an additional bet for player's who are seated at the table and allows you to wager on your first two cards being a pair. A perfect pair of both colour and suit will see a payout of 25:1; a coloured pair of the same colour and number will see a payout of 12:1; and a mixed pair where the number is the same but the colour and suit are both different will pay 6:1.
Our thoughts
Blackjack Party is a fun title and the bet behind feature definitely makes the game quite appealing, especially if you are waiting for a seat.
The concept of the two hosts however, is a bit of a miss for us. The hosts we experienced were a bit awkward and were talking about their weekends, something we aren't really that interested in. We would be happy with just the one live dealer streamed directly to our screen for this purpose, but you may enjoy the conversation between the hosts or find the two hosts you have exude more chemistry.
Where to play Blackjack Party on mobile
Unfortunately, Evolution Gaming hasn't made Blackjack Party available for mobile smartphones and tablets just yet. But with the rapid advancements in technology allowing gambling software providers to port and optimise their games over on phones and tablets easier, Blackjack Party is sure to be playable on mobile in the near future.