When we are gaming on the go we can be connected to public networks, so we need to use a secure deposit method. Prepaid methods allow for a safe deposit to be made, especially if they are vouchers since they aren't linked to your personal bank account. Meeting this criteria is paysafecard.
We take you through how to make a deposit with paysafecard and detail why the online casinos we recommend are the best choices to play at.
Background of paysafecard for mobile deposits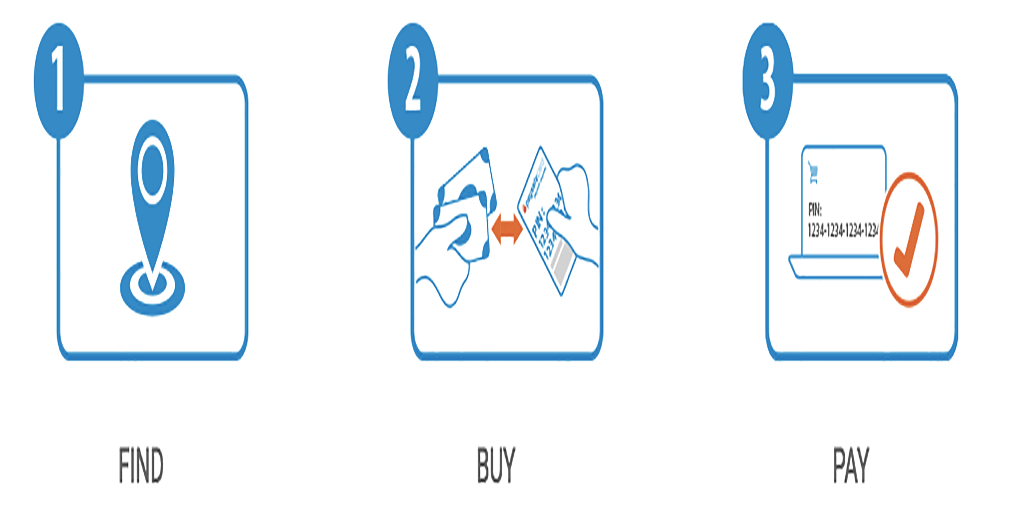 The prepaid voucher method was established in 2000 in Austria, by parent company Skrill. It has since risen to the forefront as a top iGaming deposit method, especially for mobile deposits.
When the service was established, it came in the form of a physical card, but it was made into an e-voucher in 2002 – perhaps due to Visa and MasterCard dominating this type of prepaid option. Two years later, users could purchase the voucher online making it an even more convenient deposit option.
In 2015, Skrill wiped out the competition as it acquired Ukash, the other top prepaid voucher option for online casino deposits, and merged the service under the one name – paysafecard.
Today, Australia and New Zealand users belong to the fastest growing market for paysafecard in the world. This is due to the anonymous nature of paysafecard, the ability to load and go, and to make mobile deposits using 16-digits without having the hassle of verifying gambling transactions with your bank.
The method can be used via all devices, but is a top choice for smartphone and tablet users.
How to deposit paysafecard at accredited mobile casinos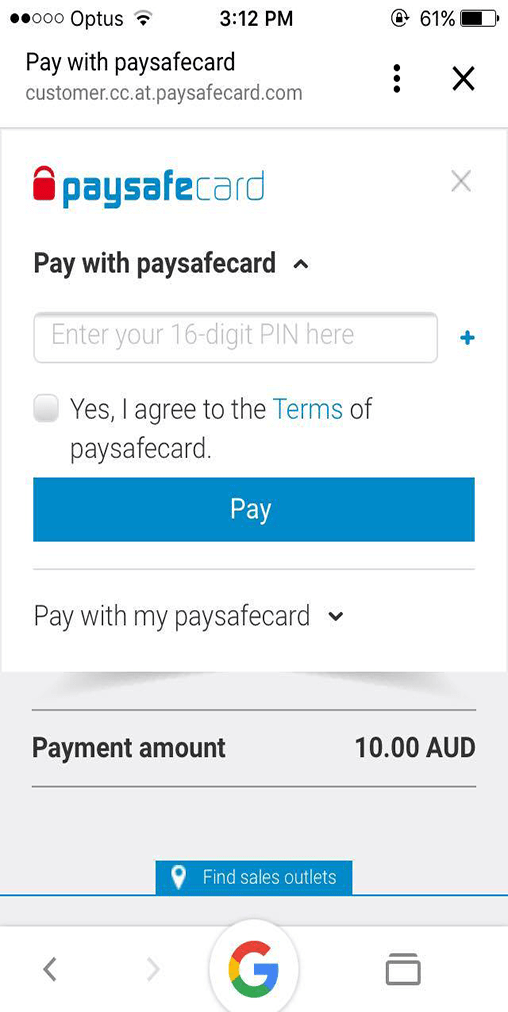 To make a deposit you need both an online casino account and a prepaid paysafecard voucher.
You can use your desktop login details at mobile casinos, since they are compatible across all devices – but if you don't have an account yet tap one of the sites above to create one. We have listed the above mobile casinos due to their mobile encryption technology, their smartphone and tablet gaming catalogue, and their acceptance of paysafecard.
Once you have an account you can head to the mobile cashier and locate the paysafecard logo. You will need a voucher, which you can purchase from retail outlets, including Coles, and online – locate outlets and the online partner on the paysafecard website.
Then simply enter the amount you wish to deposit along with the 16-digit code from the voucher you have purchased in the fields available to make a deposit. If you have purchased more than one voucher, which we will explain why you may have below, then you can tap to enter more than one.
The deposit will be processed instantly and your funds will appear in your mobile casino account immediately so you can start playing real money casino games on the go.
Important paysafecard tips for mobile deposits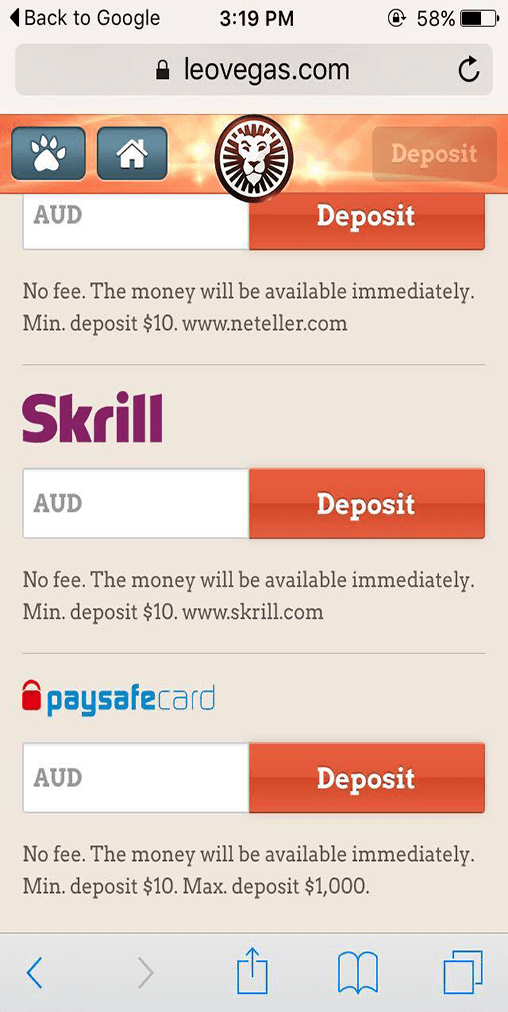 We have compiled some things you should note before opting for paysafecard, including;
There are different amounts available to load onto your voucher including $10, $20, $50 and $100. The maximum is $100 so if you want to deposit more you will have to buy more vouchers.
There's a maximum of 10 vouchers available to purchase at one time – high rollers may have to make separate transactions.
The full amount on the paysafecard can be used – but there may be a voucher fee incurred when purchasing.
You can use the voucher more than once if it still has money on it, but once the funds have been used you can't reload it.
If you don't use the funds within a year, you will be charged $4 per month.
There is a smartphone and tablet app available so you can check your balance, monitor transactions and locate retail outlets to purchase vouchers.
You can't use the service for withdrawals.
If any of these factors have put you off, perhaps opt for an e-Wallet, such as Neteller or Skrill for mobile deposits.
Remove the need to enter a 16-digit paysafecard code
When it comes to making a deposit, 16-digits can be quite a lot to tap into on our small screen devices – especially if the 16-digits are different each time you make a deposit. This is why the prepaid method offers a service to help users out, known as my paysafecard.
This online tool allows you to create an account with a username and password which you can then use to make a deposit with. Simply enter these details when you make a deposit instead of the code.
Therefore, you can purchase a number of paysafecard vouchers and use the same user name and password to make one easy deposit – instead of entering multiple long numerical codes with your mobile device.
We recommend using paysafecard at Leo Vegas mobile casino as it features the most online casino games for smartphone and tablet players.