The takeover of mobile technology has changed the way we can gamble for real money, with portable games now available within arms-reach at almost all times. Only a matter of years ago, if you wanted to spin the slots or try your luck on the roulette wheel, a lot of planning and effort was required, but online casinos changed all that, giving players access to games from the comfort of home.
The recent addition of mobile casino technology has made casino gambling more accessible than ever, so we ask the question, what are the advantages of playing online at a mobile casino compared to playing in a land-based casino?
Accessibility
Not everyone lives within easy reach of a land-based casino, and not everyone has the funds to be able to jet off to Las Vegas or Atlantic City anytime they feel the urge to throw down some bets, making gambling in a land based casino impossible for some and just too inconvenient for others.
On the flip side, almost everyone these days has access to some kind of smart device, be it a mobile phone or tablet computer. Even if you don't own your own smartphone or tablet, chances are one of your colleagues, relatives, friends or neighbours do, so access is never far away. A majority of the leading online casinos are now available in instant-play mode, where games can be accessed directly over your mobile Web browser without the need for any additional downloads, meaning most mobile users now own a gambling capable-device.
If your phone or tablet has Internet capabilities with Flash or Java software, it's likely you can access real money casinos on your iPhone, iPad, Samsung, Windows Phone, Google Phone, or any other Android powered device. Just pick up your device, tap any of our links and you're ready to roll.
Convenience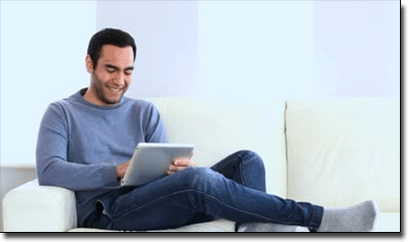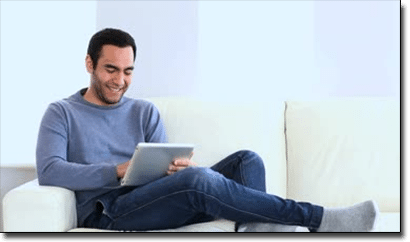 Even those who live within close proximity of a bricks and mortar casino can be thrown off by the extra effort required to head out for a night of land-based casino gambling. Whether it's dealing with traffic, paying for taxis, meeting the required dress codes or finding a game which meets your wagering requirements, sometimes planning a night at a real casino can just be too darn frustrating.
Playing at a mobile casino means all those extra issues are a thing of the past. With portable play, you can login to your casino account from your Apple or Android phone or tablet wherever you can get an Internet connection. This means you can play real money games from public transport, while waiting to meet a friend for coffee, on your lunch break at work or while kicking back on your couch in your comfiest clothes eating your favourite snack.
Lenient wagering requirements
Mobile gaming caters to all bankrolls, not just those with extra money to burn, while high rollers are also well catered for. Playing at an online casino allows you to select games suited to your personal wagering requirements, rather than being restricted to whatever's on offer at a land based casino. With hundreds of games to choose from at an online casino, there's something to suit all budgets, while not everyone can afford the high buy-ins imposed at gambling tables in real casinos.
Online casinos also have lower operating costs, so can afford to offer games with lower house edges and better odds. For example, while most land-based casinos exclusively offer American Roulette as it's more beneficial to the house, playing online gives you the choice of roulette games with better odds for the player, like European and French roulette.
Better game variety
The obvious advantage of playing at an online casino is there are so many more games to choose from. While mobile casinos do offer fewer games than their desktop counterparts, you'll still find significantly greater variety at a mobile gambling site than you would if playing in real life.
For example, multi-award winning mobile casino Leo Vegas has over 270 pokies and 40 table games available for iOS and Android users, including a selection of mobile live dealer games. Where are you going to find that kind of variety in a land based casino?
Mobile casinos offer games from multiple software developers, including hot shots like Microgaming, Net Entertainment, BetSoft, Play'n Go, Thunderkick, iSoftBet, QuickSpin and many more. New games are being added to mobile casinos constantly, so a new and exciting game variant is never far off.
Atmosphere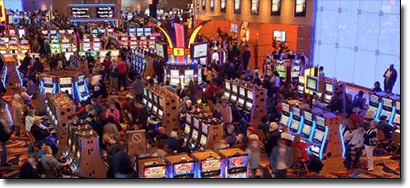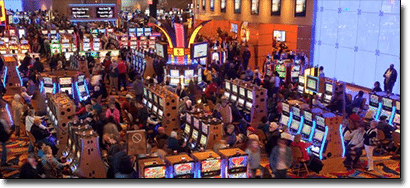 The atmosphere experienced when playing in real life is one of the only advantages land based casinos have over online venues. All things aside, sometimes nothing beats the feeling of getting amped up for a night out at the casino and enjoying the buzz of excitement thick in the air. Playing at a land-based casino is fabulous for socialising, meeting new people and lapping up the overall ambience as you play for real money – unfortunately these nights are usually reserved for special occasions.
If you want to replicate the excitement and atmosphere of playing in a real casino while still enjoying the convenience and comfort of playing from home, you can try live dealer casino gaming. These are real table games hosted by attractive, real dealers, streamed to your computer or mobile device in real time. Live dealer games allow you combine the best of both worlds, while maintaining the social element of the casino experience.
The verdict
Playing at an online casino using your mobile and playing at a real casino in person are two very different experiences, however mobile gaming offers the most convenient, easily accessible and affordable option. We believe variety is the key, and online play can be the best way to hone your skills and familiarise yourself with new games before heading out for the occasional special night at a land-based casino.
If you haven't gambled in an online casino before, don't knock it until you've tried it. Tap any of our links to head to one of the best mobile sites and decide for yourself which of the two play formats is better.