As one of the biggest, most innovative technology brands in the world, Apple's mission is to constantly remain ahead of the pack, which is exactly what they've achieved with the 2015 release of the Apple Watch.
Just like the iPhone, iPad and iPod, the highly anticipated Apple Watch has been launched with a huge marketing campaign feeding huge demand for the product, with 4.2 million of the Apple smartwatches shipped in the second quarter of 2015 alone.
We take a look at this pioneering device and the potential it holds for mobile casinos and iGaming.
What is the Apple Watch?
The Apple Watch comes under the realm of what's known as a smartwatch, and is the first ever wearable device released by Apple. Upon its release in April 2015, the Apple Watch quickly became the world's best selling wearable device.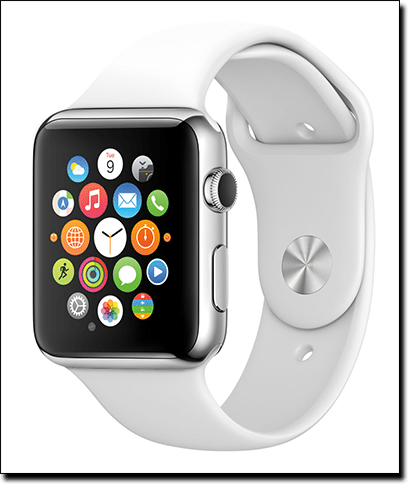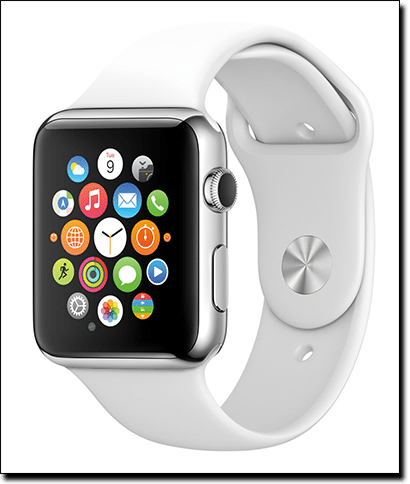 The Apple Watch is worn around the wrist just like a regular timepiece, telling accurate time within 50 milliseconds of the global time standard. The difference is that the watch is synced to your compatible Apple device (iPhone 5 or newer generations, running the current iOS 8 software) acting as a communication device using Bluetooth and WiFi, offering many high-tech functions similar to your smartphone.
The sophisticated, attractive watch also acts as a modern fashion statement, worn by many celebrities and models around the world. Clearly, Apple have got a winner in terms of appealing gadget design.
Features and capabilities of the Apple Watch
Well beyond the capabilities of a standard timepiece, the Apple Watch has many special features. The following is a list of just an example of the things you can use your Apple Watch for:
Telling the time, including use of a stop watch and alarm clock
Fitness tracking including a built in heart monitor, calorie counter, accelerometer and workout intensity
One tap payments using Apple Pay
Access your iTunes music library
Send digital touch communications including a pulse of your heartbeat to a loved one
Make calls and send sound bytes to other friends with the Apple Watch
Navigate through your Apple TV menu
Access your Apple Passbook to bring up flight boarding passes, movie tickets, loyalty cards, etc
Send a ping to locate your misplaced iPhone
Get real time weather and stock market updates
Access to native apps including Instagram, Uber, Twitter, Shazam and more (available late 2015)
Access to the Siri voice command service
Plus a whole lot more.
As this is the first ever edition of Apple Watch, it's safe to say that giant new features will roll out quicker than we can keep up. We've got our eyes firmly peeled on the possibilities for the online casino industry.
Are there different models available?
There are three different models of the Apple Watch to choose from:
Apple Watch – the standard classic model, available in stainless steel or space black stainless steel, with a choice of stylish straps. Pricing starts around AUD $799.00.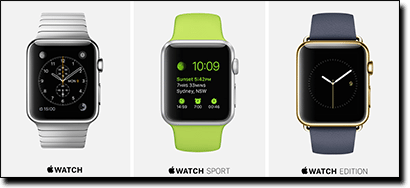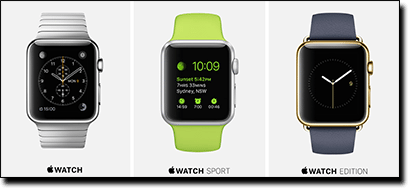 Apple Watch Sport – for more active use, utilising anodised aluminium cases in stainless steel or grey with a range of colourful, durable straps to choose from. Pricing starts around AUD $499.00.
Apple Watch Edition – the high end model, featuring 18 carat gold cases in yellow or rose, protected by a sapphire crystal display. Pricing starts around AUD $14,000.00.
Can you play casino games on the Apple Watch?
Online casinos are racing to keep up with the latest mobile technologies, with the best real money gaming platforms stating to roll out impressive mobile casinos as software developers release more and more mobile optimised games. But no matter how fast they move the technology always seems one step ahead.
As the Apple Watch is still in its infancy, none of our recommended casinos have yet expanded their technology into the iWatch sphere, but with sports betting sites like Ladbrokes recently releasing the first ever Apple Watch gambling app, it's only a matter of time before Internet casinos follow.
There are some casino game apps that you can download on your Apple Watch from the App Store, however these games are for free play only and don't allow real money betting. If you already own an iWatch you might like to try these free casino games to get an idea of the potential play format that online casinos may use when the smartwatch casino technology becomes available.
One of the world's leading online casinos, Royal Vegas Casino, currently offers the popular slot game Thunderstruck for smartwatch play but only for Android devices.
The Apple Watch and the future of iGaming
Experts have estimated that by the end of 2015, 30% of all online gambling will take place on a mobile device, so despite baby steps at the moment, we assume it won't be long before wearable technologies like the iWatch introduce a whole new world of possibilities for online gambling. There's already been talk about the Apple Pay feature being utilised at land based casinos, with operators wondering how this ground breaking new technology could replace the use of chips.
Despite the possibilities that lay ahead, wearable technology hasn't entirely been warmly received by the casino industry. Some have doubted the appeal or longevity of smartwatches, seeing them as another marketing gimmick that won't stand the test of time. Some brick and mortar casinos have shunned the devices entirely, as app developers aim to profit from the smartwatch boom with apps like blackjack card counters, which allow punters to keep track of the high and low cards already played in a deck.
Card counting smartphone apps have been an issue for real life casinos for awhile now, but the wearable technology makes the apps even harder to detect. There's been talk of land based casinos banning punters from wearing the Apple Watch, but only time will tell how this will play out.
With the release of the Ladbrokes gambling app for Apple Watch, online casino vendors now have competition to keep up with, so despite any reservations it's up to casino operators to keep their fingers on the pulse of this new in-demand technology.