There is an interesting stigma around social media mobile games many people seem to carry today – and that is they're harmless fun. No one views them in a negative light as the vast majority are free to download and free-to-play, and the perception is you aren't risking real money.
But is this actually the case?
While we think social media mobile games are boring in general and no where as good as real money mobile casino games, it's clear a huge market has opened up and embraced the mobile free-play model of casino games. But when we talk about how bad they are, we're referring to the fact developers have disguised these games as harmless free fun when they actually have hidden fees – called IAPs (In App Purchases), otherwise known as microtransactions – and aren't as widely regulated as mobile casino games from authentic sites.
So if you think tapping away on your Apple iPhone or your Android tablet is harmless since it's on Facebook and it isn't real money, perhaps it is time to think again.
What are social media mobile games?
When we talk social media games, we mean the ones offered on the social network platform such as Facebook. These are the games we get invites to while we are chatting to our friends or scrolling through our feed of interesting, and not so interesting, click-bait articles.
Originally, social media games were web browser-only games, requiring players to log into Facebook via their desktop or laptop to play. But as portable devices have become more popular, game design has been completely re-built for smartphones and tablets devices.
What makes these games different to playing video games is that they are on a platform where you can play against, or with, your friends all the while chatting to them, which in turn makes it a social game. And what makes them different from real money mobile casino games is that they aren't played with the intention of winning real money.
Popular social network games include:
Zynga Poker
Zynga Mobile Slots
FarmVille
Casino-style Roulette
The Sims Social
House of Fun Slots
FrontierVille
Slots Kingdom
Mob Wars
CityVille
Dragon City
Candy Crush
Pure Slots
And many more
So what exactly is wrong with these games?
The problem with social media mobile games
The problem with social media network games is that they have the ability to trick you into thinking they are harmless, free play games. Developers have taken concepts from childhood games to create social media title with fun graphics and a lighthearted name to coincide with the view that it is a harmless free play game.
But when you look closer, or read the terms and conditions, you can see that these games are a ploy to get you to spend money or even trick you into spending money.
Mobile virtual currency
A distinct perception of social media craze FarmVille, developed by Zynga (known for multiple other social media casino and non-casino games) is its in-game currency is just play money. The game is dressed up with cute graphics along with this playful idea of offering a virtual currency that isn't real. However, in actual fact, this virtual currency requires real money to be used in order to purchase and play with the virtual currency.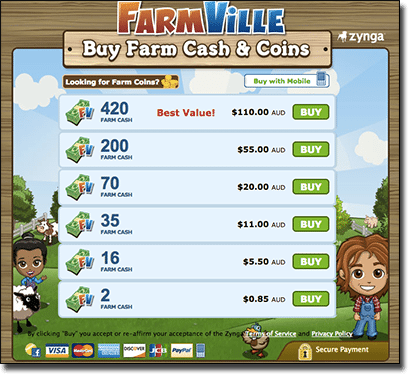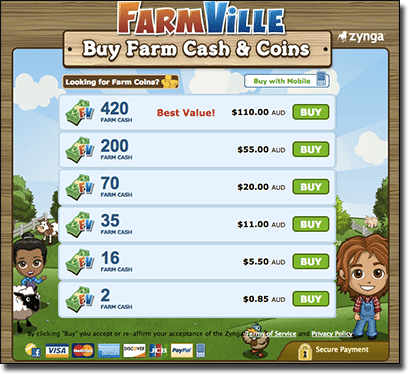 Think about it; there are casino free play games on Facebook, but you would be more inclined to read the terms and conditions here then you would on a lighthearted game such as Candy Crush due to the connotations that come with casino games, and this is where developers get you.
Additionally, as we play these types of games we are recommended to play other social media mobile games and here we can end up playing casino-style games that have the same concept of virtual currency, such as the many created by the FarmVille developer Zynga. For example, Zynga Poker was recommended to us after playing FarmVille and here we are prompted to purchase chips with real money.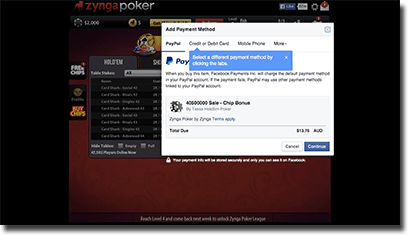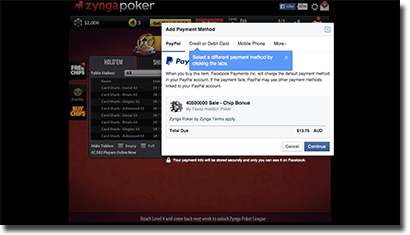 The problem here is not only do the game graphics lack in comparison to real money casino games, but they also trick you into thinking that since it is virtual money you aren't really gambling. So while we are playing with a virtual currency that cannot be cashed out, we are still wasting our own money to purchase the play money and in essence just throwing cash down the drain.
Take this money you used on a game that offers no return and use it at a mobile casino that is safe, and you are not only protecting your financial information when you enter it, but you are also giving yourself an honest and entertaining experience with the actual chance of a real money return.
Hidden fees
Zynga Poker is just one popular social media mobile game that actually does clarify that you need to use real money to purchase the virtual currency – others might not be so forthcoming. For example, some games such as Pure Slots by Arooga state they will provide you with the virtual currency for free if you fill out a survey.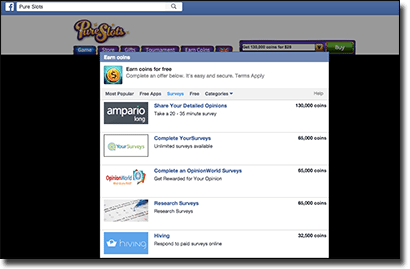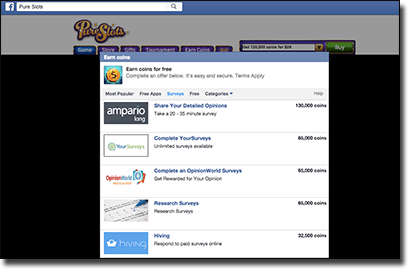 Once you have completed the survey, they ask for your mobile number so they can send you a code to use. With this, you have unknowingly subscribed to a service that charges you an ongoing fee.
We can see here developers are taking full advantage of the fact many players do not read the terms and conditions.
But money isn't the only problem with these social media mobile games.
Regulation
The problem with playing on a social media platform is that since these games aren't considered to be real money gambling games, they aren't regulated. As we are sharing our identity via our public profile, or we are purchasing virtual currency or even entering our details in order to receive virtual currency, these games do need to be regulated.
Real money mobile casino games have negative connotations, with many players wary of gambling on their phones and instead preferring social media gambling games. But playing at reliable mobile casinos protects your sensitive information, such as identity and financial details being 100% safeguarded due to the modern encryption technology they are required to have in order to run a reputable mobile casino and better licensing and regulatory standards compared to social media casino games.
Additionally, younger people can play these types of games and spend their money (or their parent's money) because there is no regulation involved and no protection of vulnerable players that online casinos do have with third party auditing, identity verification, and more. These kids can make fake profiles and spend away with no questions asked – something reputable mobile casinos do not allow.
Provided you play responsibly, playing at mobile casinos is more enjoyable than playing mobile social media games, and overall are a better investment of your time due to the ability to play with real money and win actual money, instead of being tricked to use real money to purchase play money.
If you're gonna spend cash on "credits" in a mobile casino game on Facebook, why not just play at actual mobile casino sites with better regulation and actual rewards?